If you're looking to become a croupier as a woman, you've come to the right place.
Revealed on this page are some of the most important roles of a croupier (also often referred to as a dealer), some of the requirements and qualifications needed to become a croupier/dealer, the average salary, and more.
What's The Difference Between A Croupier At A Land-Based Casino And A Live Dealer At An Online Casino?
The main difference between a croupier at a land-based casino and a live dealer at an online casino is that land-based croupiers interact directly with the players. Dealers and players are both physically present in the casino.
Live dealers, on the other hand, are based in licensed studios in certain locations dotted around the world, which the general public usually cannot access by walking off the street. The action is live-streamed to a fully licensed online casino website, which can be accessed from any Wi-Fi/internet-connected mobile or desktop computer.
In other words, you can generally only play at a live dealer casino from your smartphone, laptop, desktop, or tablet device (with a few exceptions that we will discuss further down). A live dealer at an online casino can still interact with active players, but not in the usual way that land-based casino croupiers can interact with their players.
For example, players can communicate directly with other players and dealers using the in-game live chat feature. If the dealer reads your message, he or she will talk to the camera when replying to you (kind of like on the old late-night real-money gambling shows that used to be on television).
You can see them and hear them, but they can't see or hear you. Although most live dealer casinos can't be accessed by people walking in off the street, some online casinos, such as Grosvenor Casino (and a few others), have a land-based casino business too, and some of their tables are live-streamed online.
However, live dealer games from companies like Evolution Gaming, OnAir Entertainment, Ezugi, Pragmatic Play, and Betgames.tv, Authentic Gaming, and Vivo Gaming, to name a few, are usually streamed directly to your device from a closed and secure television studio.
Should I Visit A Casino Before Trying To Become A Croupier?
You could visit high-rated live casinos to get a feel for what being a professional croupier entails.
They all have cutting-edge live dealer games from some of the iGaming industry's most notable providers. You could simply watch and learn to see what it's all about.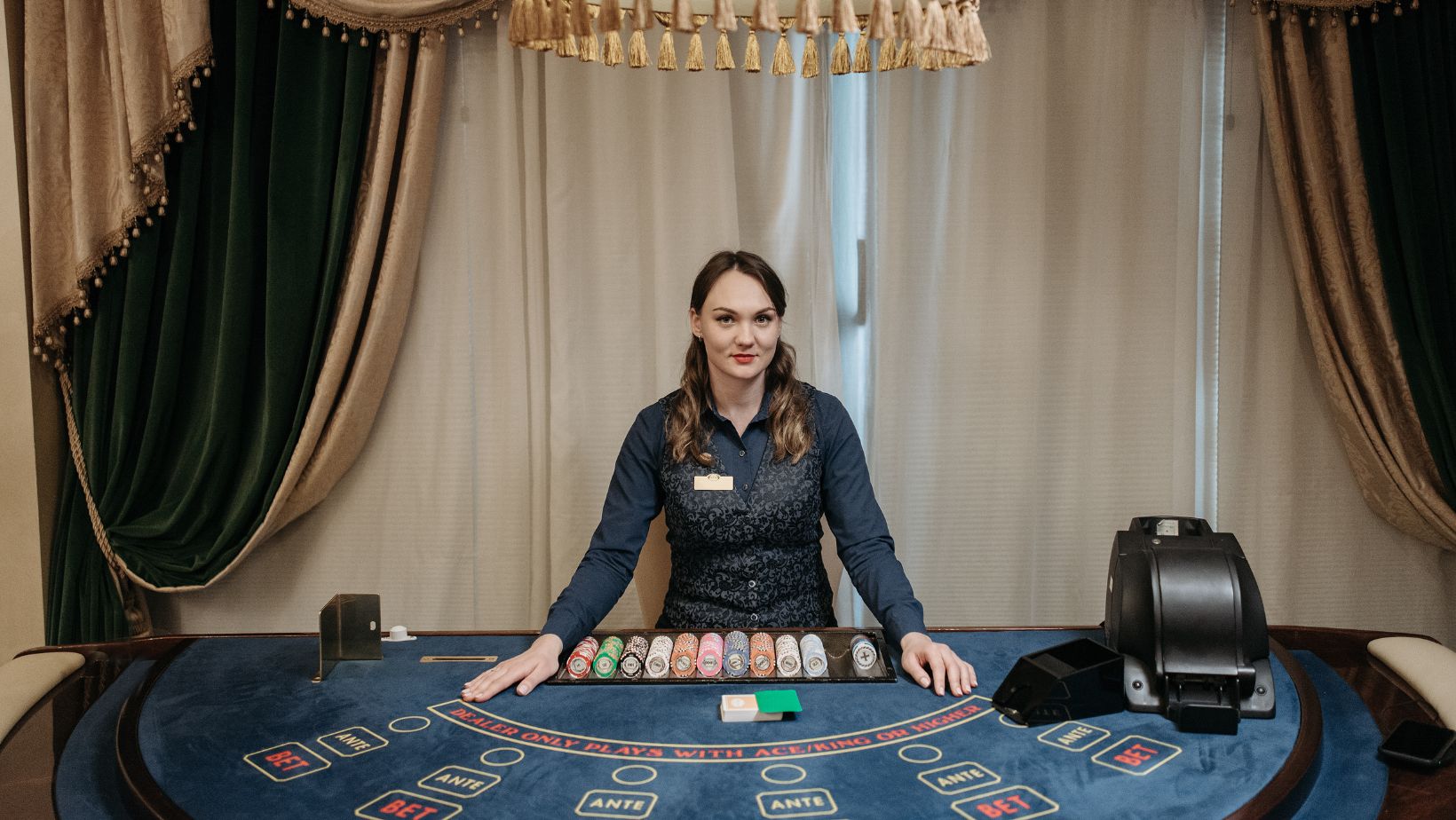 Examples of today's high-rated live casino sites, which a team of dedicated and expert researchers has carefully selected for review, are the following trusted sites:
● Mr Play Casino
● Magic Red Casino
● Videoslots Casino
● Luckster Casino
● Tsars Casino
Others include Kakadu Casino, RocketPlay Casino, iWild Casino, Stake Casino, and Winz.io Casino, to name just a few.
What's The Main Role Of A Croupier At A Live Dealer Casino, And What Are The Requirements To Become One?
It all depends on the game. For example, in roulette, you have to release the ball around the roulette wheel. In classic card games, like blackjack, craps, poker, and baccarat, you need to deal with the cards, and in craps, you must throw the dice.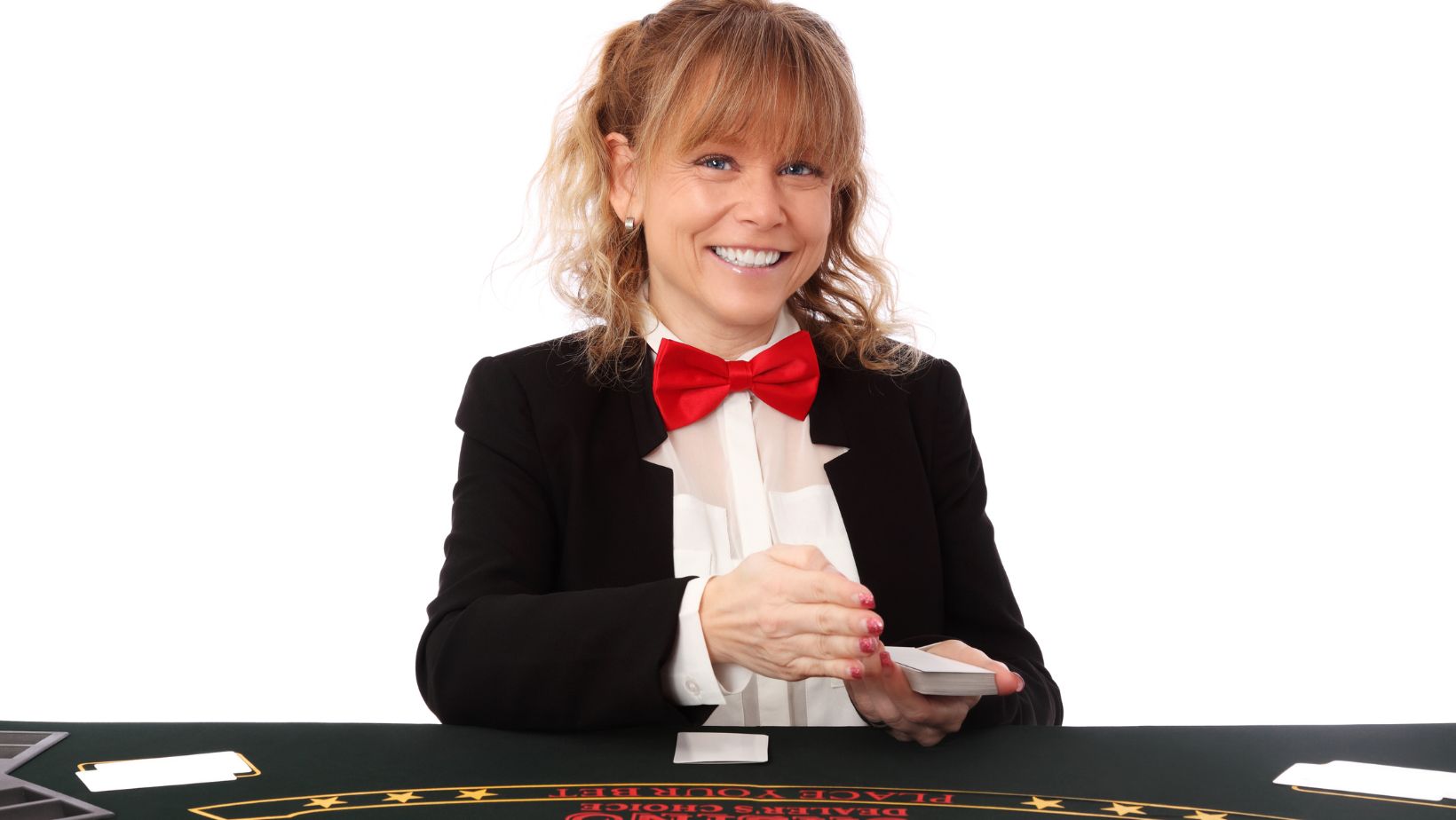 There's so much more happening in television game show-themed live dealers, and it requires a far more outgoing type of personality, which may not be for everyone. Using the chat feature, players can ask live dealer questions or just have a general chit-chat with them, and your role as a croupier would be to try and respond to as many players as possible.
You will need to explain the rules over and over to new players who join the game, so understanding the rules and payouts of all games is important. Therefore, you must have excellent communication skills and have a natural outgoing personality.
You must be of minimum age to become a croupier (which is 18 in most countries, 19 or 21 in other regions, such as certain Canadian provinces and US states). You must have the necessary high school qualifications or equivalent (e.g., General Educational Development/GED) – this also varies from country to country.
If you have any prior convictions/felonies, or in some cases, even just a misdemeanor, especially relating to theft, unfortunately, you won't be able to become a croupier/live dealer.
You will need to get the necessary croupier qualifications and pass certain tests/interviews (and possibly obtain a valid gaming license, which is completely different from an operator/software provider license), and you must be flexible in what times you can work.
Finally, you will have to provide whoever your potential employer is with the necessary documents and fill out the application/registration forms with honest details when applying for a job.
If you successfully apply to become a croupier, you could earn anywhere from $36,500 to $77,000 (or equivalent currency value). However, this is the average pay for a fully trained dealer.
Starting pay may begin even lower at around $16,000. Each company's pay structure varies; for example, some may offer more rewarding cash bonuses than others. You would have to do a little bit of research and carefully consider whether it's the profession you want to enter before embarking on this career choice.