The keto diet is a popular plan due to the huge range of benefits it offers.
The low-carbohydrate plan can be quite difficult to maintain at times, especially if you are running low on willpower, feel stressed or are incredibly hungry after a busy day.
In order to be successful on the keto diet, you need to be motivated, determined and dedicated to your regime.
However, no matter how dedicated you are there are going to be times when the temptation to call up a takeout service and order something against your diet and eat your feelings arises.
Luckily, some forward-thinking ketogenic entrepreneurs have stepped to fill this dietary void.
There are now 100% keto-safe, delicious and convenient services that will deliver healthy meals to your door.
Ketogenic meal delivery services are exactly the kind of convenience you need when on a low-carb diet. It can help you join in with social gatherings, save you on those late nights and offer you more keto-friendly meals.
The Best Keto Meal Delivery Services
There is an increasingly growing amount of keto-friendly delivery services in the US.
Today we're going to look at four of the best rated and most popular keto delivery services that you can order from today.
Factor75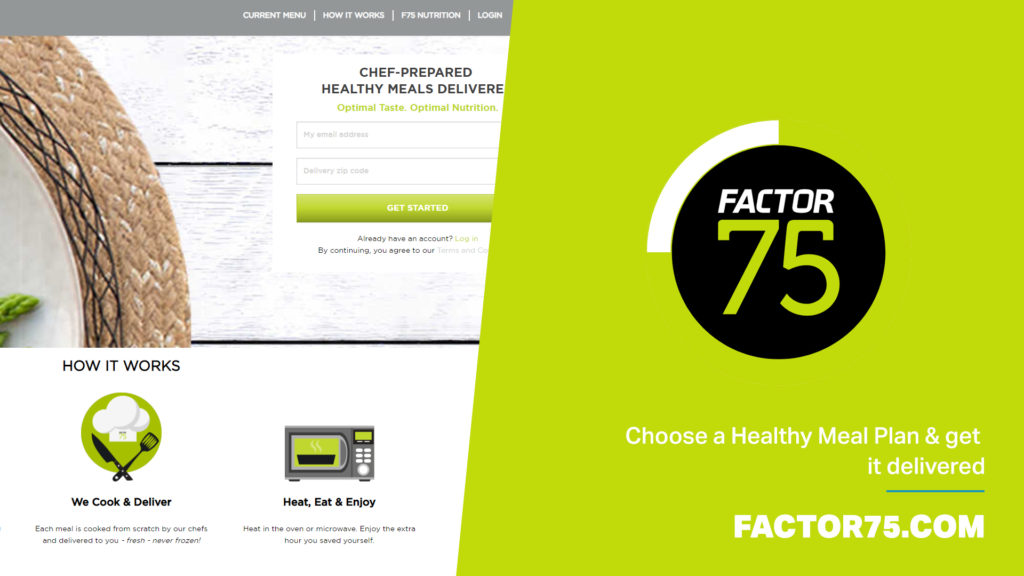 Factor75 is a brilliant keto-friendly delivery service as they do not just deliver you ingredients, like some meal delivery services, but they actually cook the meals for you.
It is an incredibly convenient service that can fit into any daily routine. All you are required to do is log-in to your Factor75 account once a week and choose between 4-18 different meals for the week ahead.
You can choose from various different subscription services, which will give you varying access to their meals. This makes Factor75 a great service for so many people, no matter the budget.
Once you have ordered your range of delicious, nutritious and keto-friendly meals, they will be delivered to your door ready to eat right out of the box. You can keep them in the fridge to eat throughout the week.
The Factor75 meal service is very easy to use and is super convenient. Once you have a range of tasty, keto-friendly meals readily prepared on hand, there is less chance of you being tempted by something off-plan.

This meal plan is totally adjustable and can be altered to suit your routine. You are able to choose different meals each week, ensuring you won't get bored, as well as the option to skip certain weeks should you not need another delivery.
All of the meals available on Factor75 have been created by professional chefs and use high-quality ingredients. Nothing that would jeopardize your keto diet plan is included in these meals.
Factor75 is a service available in all lower 48 states. It is designed to save you money over time, so the more you use it, the better value it is.
Top Pick Of Factor75 Meals
Factor75 have a wide range of delicious and exciting keto-friendly meals. They have meals for every time of the day, making them an incredibly useful service.
Here follow our five favorites, that you really should try:
Taco Bowl
Greek Burger and Parsnip Fries
Paleo Granola
Cajun Shrimp
Spaghetti Squash with Ragu
Factor75 will arrange, prepare and cook these meals before delivering them to your door. This is a great service for those who may be too busy to cook throughout the day, but who still want access to great tasting, keto-friendly dishes.
Factor75 Highlights
Incredibly delicious, healthy meals
Convenient service suitable for a wide range of people
Offers flexibility in meal choice
All meals are free from sugar, gluten, soy, and GMO
Cooked with organic ingredients by top chefs
Ketoned Bodies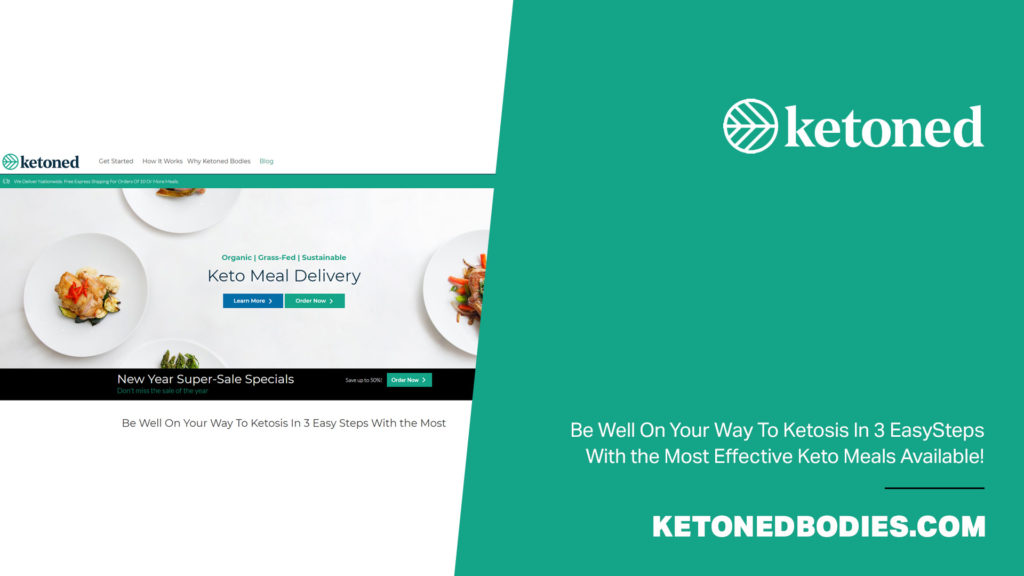 Ketoned Bodies is a fairly new keto-friendly service, as it was founded in 2017. However, since then, their professionally crafted keto meals have swiftly contributed to a great reputation.
Each meal available from Ketoned Bodies has been specially designed by renowned and celebrated chef, Paul Winberry Jnr. You might have seen Paul Winberry Jnr on the fifth season of Top Chef Masters, where he served as a sous-chef to Douglas Keane.
Using a renowned chef enables Ketoned Bodies to provide delicious, inventive and healthy meals that abide by the keto diet. Their wide range of meals are high-quality and will provide you with restaurant standard meals direct to your door.
All of their meals rely on 100% grass-fed and pastured meats and organic produce. These high-quality ingredients provide you with the maximum nutrients available, as well as optimizing their environmental sustainability.
Their high quality does not end at their ingredients. All of your keto-friendly meals provided by Ketoned Bodies will be prepared and cooked on USDA inspected stainless equipment.
This means you can get great tasting meals without having to do any work. Ketoned Bodies will send the meals directly to your door to be consumed whenever is convenient for you.
This is a great service that will save you time, energy and money in the long run – all while keeping you on track for your keto diet.
With Ketoned Bodies, you can rest assured that your meals will be delicious, keto-friendly and incredibly safe.
Top Picks of Ketoned Bodies Meals
Ketoned Bodies provide a wide range of delicious and organic meals, designed and cooked by famous chefs. Their service is incredibly high-quality, and it's very likely that you'll find some new favorites within their menu.
Here are our top five picks:
Cashew Beef and Broccoli
Real Texas Chili
Chicken Keto Platter
Pasta-Less Lasagna
Rib-eye and Bacon Butter Brussels
Ketoned Bodies use a wide range of top quality ingredients to ensure the best taste and safety of their meals. Having a service that delivers restaurant quality meals straight to your door makes it easy to stay on the keto diet, even when you're super busy or unmotivated.
Ketoned Bodies Highlights
Hand-crafted meals by Michelin star chef
Uses the highest quality organic ingredients
Safety checks on their steel-ware used in the preparation
A wide range of tasty and unique meals
All meals are low-carb, organic or grass-fed
TrueFare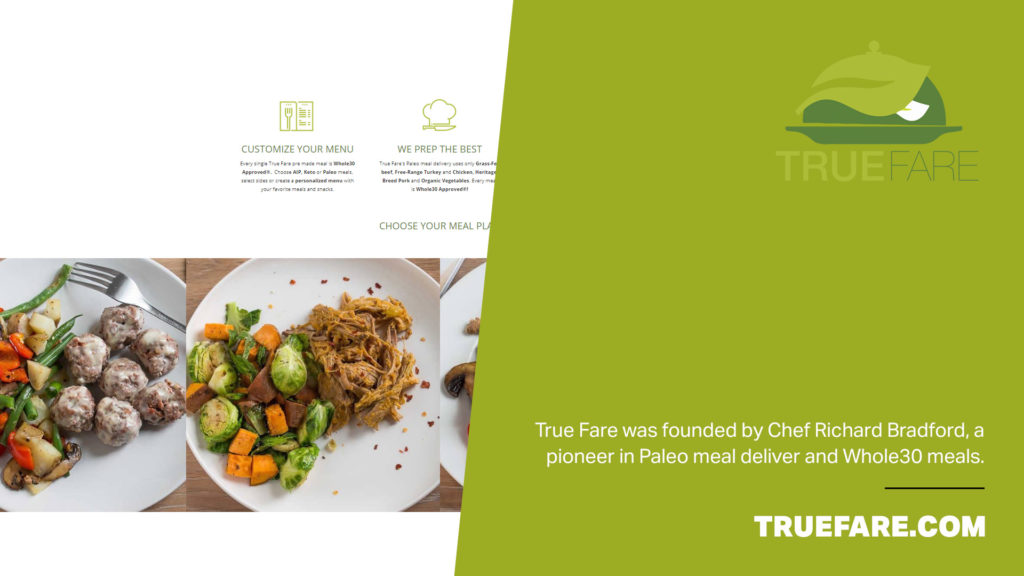 TrueFare is one of the longest-running keto-friendly meal delivery services available. They have been delivering delicious, keto-friendly meals to homes for over six years and their services are growing in popularity.
TrueFare is a popular meal service because they offer flexible ways to deliver. They offer two delivery services; either choose your ingredients a-la-carte from their online menu – or sign up for a subscription to have access to their meal plans.
When you are on a TrueFare subscription, you can choose to have your meals delivered weekly, bi-weekly or on a monthly basis.
TrueFare is an incredibly convenient and easy-to-use meal delivery service as they prepared and cook all meals before shipping them directly to your home. This will save you time and energy on creating tasty, keto-friendly meals for yourself.
After a long day of working and the gym, the last thing you want to do is cook a meal that will abide by your keto diet. This is where a lot of people fall off the wagon, but thanks to TrueFare you don't have to worry about it.
All of the meals available by TrueFare are prepared by professional chefs and use the highest-quality ingredients. All their ingredients are organic and free-range.
Their wide range of keto-friendly meals covers breakfast, lunch and dinner options. All of TrueFare's keto meals are fully compliant with the diet's strict regime and do not contain any hidden carbs in the sauces or seasoning, as other takeouts may do.
It is a full-standard keto diet meal delivery service that can offer those will little time – but big budgets – a range of tasty and healthy meals.
Top Picks Of TrueFare Meals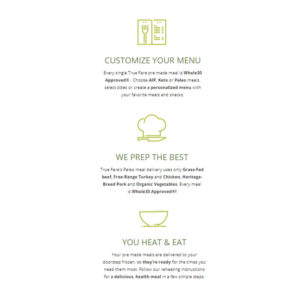 TrueFare offers a wide range of keto breakfast, lunch and dinner options that have been prepared by professional chefs. With the option to choose the ingredients you need to full-blown meal delivery, this service is very versatile.
Here follow our favorite meals from TrueFare:
UnBun Burger
Buffalo Chicken with Broccoli and Bell Peppers
Turkey Meatballs with Organic Cauliflower
Red Pepper Chicken with Dill Cabbage Slaw
Pink Peppercorn Beef
TrueFare is a versatile service that can help a range of people maintain a keto diet. They offer keto-friendly ingredients to those who may not have access to them otherwise, as well as fully-cooked meals that can be eaten throughout the day.
TrueFare Highlights
Flexible ordering process to fit your needs
Ingredients or fully cooked meals are available
Highest quality, organic ingredients used
A wide range of meals available instantly
Breakfast, lunch and dinner options
Green Chef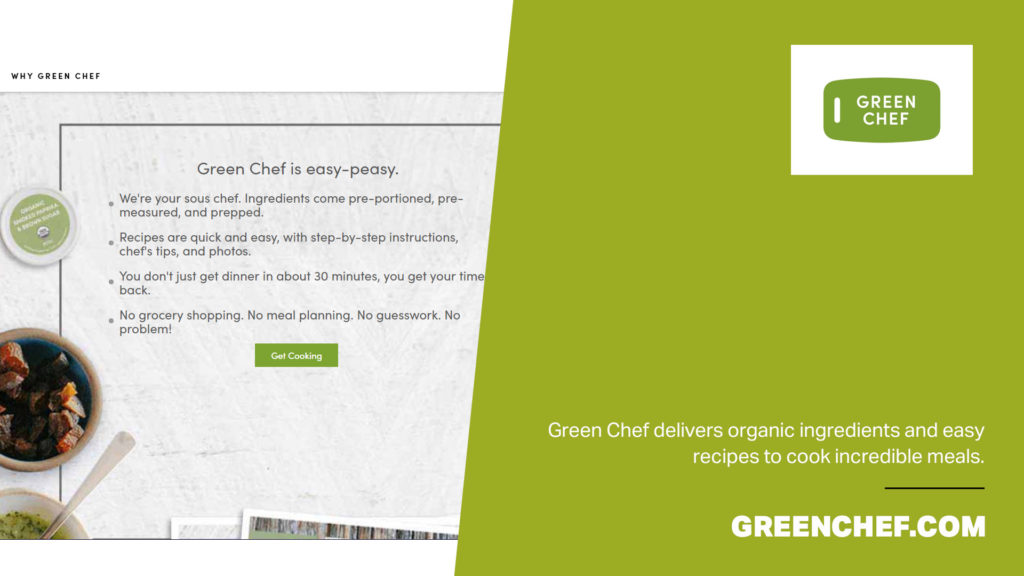 Green Chef is a great keto-friendly meal prep service that curates the best quality ingredients and delivers them directly to your door.
This service is perhaps better suited to those who like to get handy in the kitchen and who's routines allow for some light cooking throughout the day. Green Chef delivers a week's worth of ingredients to your door in a refrigerated box to keep them fresh.
Alongside the foodstuff you choose for your meals, you will also receive a range of sauces, marinades, spices and other tasty essentials to make the most out of your recipes.
With Green Chef your subscription is automatically renewed each week unless you opt-out. The company choose what is on the menu each week and offers you a selection.
This takes the guesswork out of meal planning and allows you to simply make yourself delicious and healthy keto meals, without all of the decision-making beforehand.
You have the option to skip weeks if you do not need the service and it will resume the following week without any additional charges. You will only be charged for the weeks you use the Green Chef service.
There is a great range of meals available on the Green Chef menu, all of which have been specially cultivated and designed by top chefs. Offering a great range of tasty meals ensures that you are always trying something new to keep yourself motivated throughout your keto diet.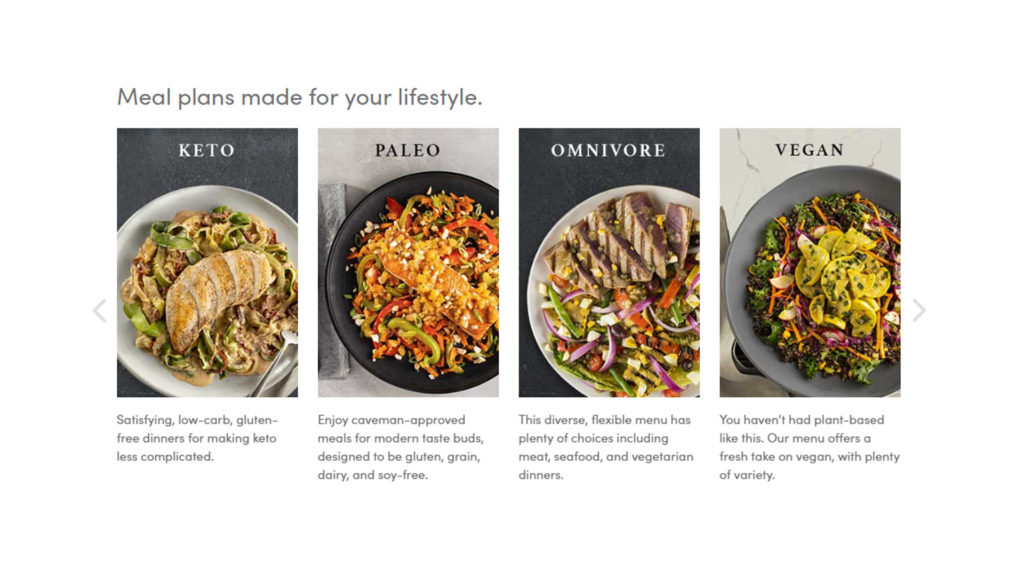 Top Picks Of Green Chef Meals
Although Green Chef does not deliver cooked meals to your door, they do prepare and organize amazing recipes for you to cook at home. Bear in mind that the menu changes every week and you can opt-out when necessary.
Here follow our favorite recipes from their menu, some of which are coming up soon:
Thai Steak Salad
Cod with Creole Dijionaise
Sausage Stuffed Peppers
Shrimp in Red Pepper Sauce
Chorizo Spiced Steak and Veggies
You need to note that this meal delivery service is actually a keto meal prepare kit. Green Chef will deliver the necessary ingredients needed for their meals on offer, allowing you to have full control over when and how you eat them.
The meals mentioned are examples of what they have on offer, although some recipes may be recycled if popular enough.
If you want to maintain a keto diet, but find it hard to come up with tasty recipes or do not have access to high-quality, keto-friendly ingredients then Green Chef is a great option for you.
Green Chef Highlights
Offers ingredients so you can get creative in the kitchen
Arranges prepares and cultivates ingredients for an easy-to-make keto meal plan
Restaurant standard recipes
Delivers all ingredients directly
Organic and sustainable keto meal kit
Green Chef Menu this week
What Is The Keto Diet?
The keto diet is a low-carbohydrate diet that is designed to alter the body's inner biology. On this regime, people are expected to eat low levels of carbohydrates and adequate protein to keep their blood sugar levels low.
As the body runs low on sugar, it must find another energy source. Since birth, your body has been using glucose (sugars) from carbohydrates to produce energy.
When it no longer has access to this, the body starts to produce ketones. Ketones are an alternative fuel source and are the namesake for this diet.
When ketones are produced the body begins to burn fat, rather than glucose to produce energy. This is an overall better fuel source for the body and brain, but it does take a little while to get used to.
Those on the keto diet need to maintain their low-carbohydrate and high-fat diet in order to keep this process going.
It is a fairly restrictive diet, but the benefits make it a very popular option for a wide range of people. It is a suitable diet for a lot of people, and it is an incredibly effective weight loss programme.
Why Use A Keto Meal Delivery Service?
The ketogenic diet is a highly popular and effective regime that is a great option for healthy weight loss. However, as the regime is fairly restrictive and it needs to be maintained in order to keep the process of ketone production going, a lot of people struggle to stick to it.
It is only natural for you to find it difficult to get into a new routine, especially one like the keto diet. The keto diet essentially rewrites the way your body works and has worked for as long as you can remember.
It is a long-term solution and a plan that works when you are dedicated and motivated. Nonetheless, even the most dedicated ketogenic dieters have days when they lack motivation and don't have time to plan their next meal.
Keto meal delivery services are excellent tools to keep you on track with your regime. Some, such as the Factor75 delivery service, deliver a wide range of fully cooked keto meals direct to your door. Other plans, like the Green Chef, create tasty keto recipes and deliver the necessary organic ingredients to your door.
Both types of keto meal kits or delivery services take away the stress a lot of keto dieters face when thinking about what to eat. When everything you need is in front of you, there is no excuse not to stay on track.
Keto meal delivery services or kits can be so useful to beginners into the diet or even those who know the regime well. Everyone needs a little helping hand now and again, and keto meal deliveries are here to offer just that.
Conclusion: You've Got A Delivery!
Although the keto diet is a restrictive plan, it doesn't have to be a difficult one to maintain. With a wide range of keto meal delivery services available, it is so easy to maintain your diet and still have access to delicious foods.
We understand that modern life can be incredibly busy and deciding what to have for your next meal, planning it and cooking it are chores that sometimes cannot fit into your day.
Luckily, we now have access to keto meal delivery services!
Sign up to one today and see how much of a difference it can make to your life.